In my paintings I focus on the tension between the strength and the inner vulnerability of the woman. Emotions like fear, anger, guilt, insecurity, driven by suppression, seksism, expectations and the ideal of beauty always return. The attractiveness of the eyes and hands, like mirrors of the soul, are determinative for the experience of the emotion and dare the audience to connect an anecdote with the emotion.

'To be suppressed, the situation of the woman doesn't matter.'
Your appearance doesn't always show who you really are and how you really feel. The appearance of women does not show their true feelings. The way a woman looks on the outside, does not have to show how she feels.
In my paintings I try to show the ethos of the '40, '50 and '60. Mostly I choose western women in a very popular period (old Hollywood stars). I try to connect the eastern and western culture and I try to show that we all have the same emotions, regardless the culture we live in.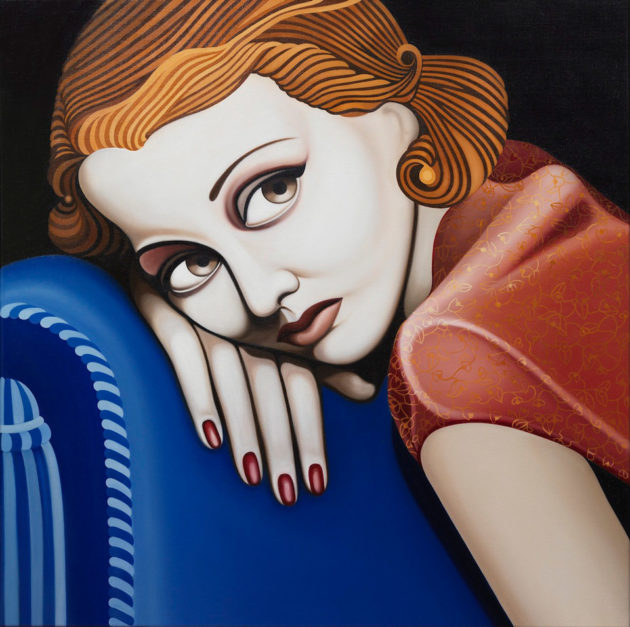 I use colorfull patterns and designs that are characteristic for me and my style and that allow me to give something from myself. It makes the paintings complete.
I use different painting techniques, like painting without dimension, flat surfaces, figuration and plastic. There is a parallel between my technique and my intention. The use of colorfull and detaillistic technique helps me to show the emotions of women on the canvas.
Although I use film stills and old pictures of old Hollywood stars, I don't copy them. The translation through my eyes, my brain and my hands is important. I only roughly copy them. I feel free to show expressive details on a larger scale or even out of proportion, the eyes in particular. This also counts for the perspective and other compositional factors.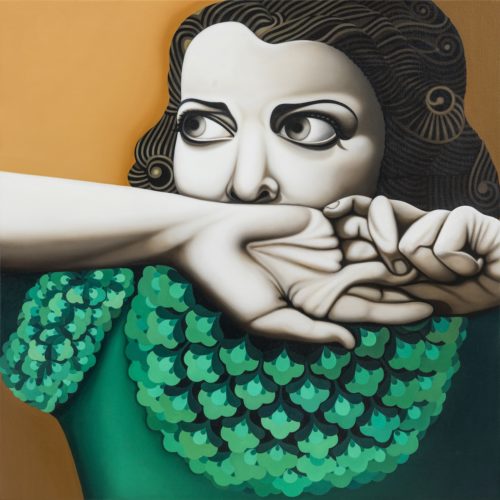 Exhibitions
2018 – Kunstexpo, Bergkerk Deventer, October 13 till October 27
2018 – MPV Gallery, Exposition 'Grace'. March 11 till April 15
2014 – PAN Amsterdam, RAI. 23 to 30 November

2014 – Pop-up Art Store, art dealer Richard ter Borg, Groningen. Group exhibition, 29 October to 2 November

2014 – Exhibition Buitenplaats Tessloo in Oisterwijk. End of April – present

2014 – Group exhibition in Walls Gallery. January 26 to March 9

2014 – The Great Last Minute Art Fair. Schietbaanstraat 9 in Rotterdam. 6 to 9 February.

2014 – Majke Husstege, solo exhibition. Verwersstraat 37, Den Bosch. 4 May to 7 June.

2013 – Exhibition in KABK "Isenheimer". November 18 to November 25

2013 – Majke Hustegge, solo exhibition. Verwersstraat 37, Den Bosch. 7 April to 18 May

2013 – Urban Realism, 17 to 20 January, Piet Heinkade 27, Amsterdam

2012 – Arti et Amicitiae, 'solo exhibition' 22 December to 6 January. Rokin 112, Amsterdam

2012 – "Present, contemporary art" 'solo exhibition' 12 October to 17 November. Denneweg 14a, The Hague

2012 – ZonMW 'solo exhibition' 1 September to 31 October. Avenue of the New East Indies 334, The Hague

2012 – SER 'solo exhibition' 6 June to 17 August. Bezuidenhoutseweg 60, The Hague

2012 – ART Rotterdam, 9 to 12 February ART Rotterdam

2011 – PAN Amsterdam, November 20 PAN Amsterdam

2011 – Art Olive Young Talent 2011 Thursday November 10 until Sunday November 13.

2011 – Menzis Young Talent Exhibition

2011 – Today, art of today

2011 – 07-02 till 07-09: THE HAGUE: KABK 2011
Awards
2012 – Buning Brongers Award
2011 – Department price – KABK
2011 – Windsor & Newton Award – KABK
2011 – Nomination Art Olive
Collections
Present art art, two works called: Sarah and Leyla and Lyonette
Ministry of Foreign Affairs, a work called: Lily
Publications
2016: Article in Brabants Dagblad
2012: Article in Magazine Leven, p. 80
Represented by
Gallery Majke Hüsstege
phone: +31 (0) 73 614 28 63
info@majkehusstege.nl
www.majkehusstege.nl
MPV Gallery
phone: +31 (0) 73 612 57 74
info@mpvgallery.com
www.mpvgallery.com
Stay up to date with upcoming expositions